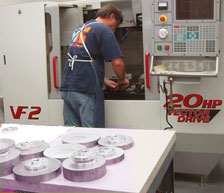 State-of-the-Art
CNC Machining Center
DiMaxx also offers custom tooling for optical fabrication and coating needs. We make precision optical shop tooling for plano, spherical and cylindrical components; and tools and fixtures for optical coating and cleaning applications.
Tools and fixtures in aluminum, anodized aluminum, plastics, and most common steels and other metals can be quickly and easily produced.